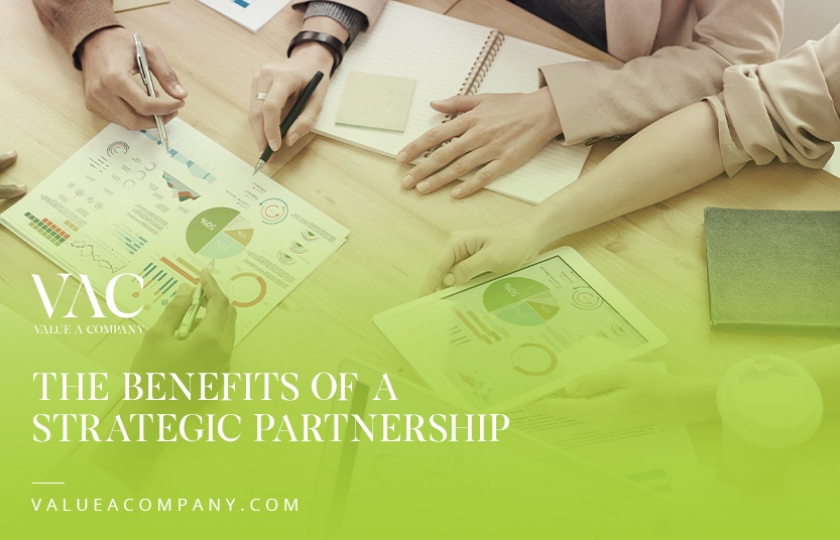 The Benefits Of A Strategic Partnership
When you form a strategic partnership, you establish an agreement with another business entity under a plan to share resources to help both companies grow and succeed.
There are several different types of strategic partnerships available to you:
Horizontal Partnership: Companies within the same sector join forces to improve their market position.

Vertical Partnership: Companies within the same supply chain unite (such as suppliers, distributors, and retailers). This is usually a path to stabilizing supply chains and boosting sales.

Merger: Two companies agree to merge into one single new company, and the two original companies cease to exist.

Acquisition: One company buys another company and becomes the new owner.

Equity Partnership: An investor takes on a percentage interest in a business, furnishing capital and sharing profits and losses.

Joint Venture: Two or more companies form an entirely new legal entity in which the profits and risks are shared, but the original companies continue to exist on their own.
Every year, 2,000 strategic alliances are formed, growing by 15% each year. So why would you consider creating a strategic partnership? First off, it gives your company a competitive edge. According to a report by the CMO Council, 85% of business owners believe partnerships are critical to business success. This is because they offer several significant benefits, such as:
Expansion into new regions and markets

Improved brand awareness

Acquisition of new technology or intellectual property

Product line extension or diversification

Tapping a new customer base

Better supply chain performance and reliability

Added value for existing customers

Improved customer service

Acceleration of innovation

Strengthening of vulnerabilities

Sourcing of capital
The COVID-19 pandemic has led to a surge in strategic partnerships because it has accelerated the need for digitalization. Companies are turning to each other for solutions that can help them quickly modernize their offerings. Many healthcare organizations formed alliances to help them better support caregivers on different levels under high demand.
It is essential to remember that more than half of strategic partnerships fail. This is usually due to unrealistic expectations, failure to agree on objectives, and a lack of trust or communication. But it doesn't have to be this way. A successful partnership needs to be built on a solid growth strategy and make sense from a capabilities perspective. Culture and company values should be aligned, and a clear vision should be shared. It is also critical that you have the proper infrastructure in place. Entering into a partnership is a significant effort, and you want to take care that you get it right. Unfortunately, many businesses do not have the right connections, resources, and management capabilities to make the most of a partnership.
According to the Business Performance Innovation Network (BPI):
43% of business partnerships have high failure rates.

45% are unable to maintain long-term, successful relationships.

42% of partnerships are not well leveraged.

67% of companies lack formal partnering strategies.
So, how do you get it right? Start by doing your homework. Make sure you know exactly what you need from a partner and how you can benefit them. This will help you identify the right partner for your business. You can also enlist the guidance of an M&A advisor that has the proper connections, experience, and knowledge to help you form an effective growth strategy designed to capture the most value.